WaveX Coating Prep Pre Treatment Spray 650 ml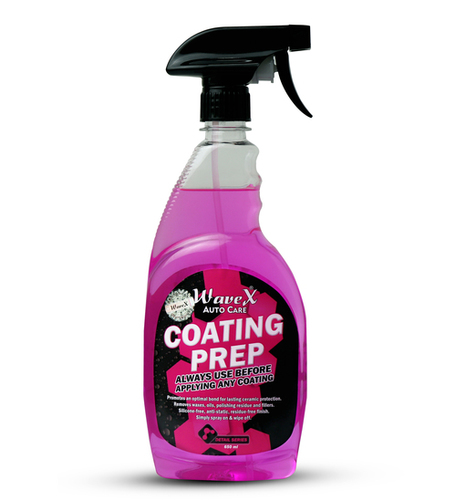 WaveX Coating Prep Pre Treatment Spray 650 ml
Product Description
Proper surface prep is a critical step in polishing and paint correction and to ensure maximum adhesion of fresh layers of coating, sealant, wax, glaze or polishes, the vehicles exterior surfaces should be appropriately prepped or pre treated which is why WaveX brings to you its revolutionary Coating Prep Spray.
Available in a 650 ml pack sizes, the Wave X Coating Prep Spray preps the vehicles exterior painted, glass, plastic, rubber, carbon fiber etc. surfaces by removing light contaminants such as loose dirt, dust particles, grime or other deposits.
It contains no silicone and is an extremely important auto detailing product as it helps in the removal of any light, minor left over wax, sealants or glazes and in the process, reveals any minor scratches or swirl marks that havent been corrected but have simply been hidden underneath the layer of auto detailing products.
The icing on the cake would be if detailers use the WaveX Clay Bar Kit after the use of this product as it would leave absolutely no scope of contamination on paints, glass, or rims.
By stripping off old, unwanted layers of waxes and sealants, the WaveX Coating Prep Spray helps in creating a stronger and long lasting adhesion of coatings with your vehicles exterior surfaces.
The WaveX Coating Prep Spray has been specially formulated and developed with lubricating and anti-static agents that prevent scratches or swirls while wiping out dust or residue.
It is a ready to use formula that does not require dilution. To use it, all you need to do is spray it onto the vehicles exterior surface and wipe it with a clean and dry WaveX Microfiber Cloth. You could later take the dry end of the microfiber cloth and clean the surface post application.